Dear Friends,
I have been going through the answers that people write on Mains Marathon and other websites. While I have seen that a lot of people are writing much better answers on the free platforms, I wanted to pitch in, especially for first timers, who may not be so aware of it yet, as to what is a good answer.
I have uploaded tried to locate good answer written by some candidates who have secured 430+ marks in 2016 ( where 400 marks were an average ) as well as 400+ marks in Mains 2015 and 2014 .
You can see that there is a certain pattern in which they approach the paper, and it is common across all years , at least since the time V Haritha Kumar Topped the exam.
While it may not be common across all candidates who have secured under 100 rank, I would say that more than 60% of them would have the same things in commonality.
I am putting it after (a) my interactions with
@louislitt
and @ mittalisethi last year in 2016 when they wrote tests and (b) secured under 100 ranks after writing in such a style and structure , thus proving that structure is important too - and a certain way of writing helps more than other ways.
While the quality of arguments and points may vary in these copies, a certain structure has been followed. I am putting this after an elated Himadree who has secured under 400 rank this year pinged me saying the thing about following a structure helped.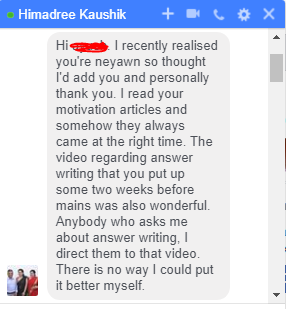 Please check this out here
http://blog.forumias.com/how-to-write-a-good-answer-that-ensures-a-good-score-420/
Let me know in comments what your observations are regarding the answers. Because , we may all look at the same picture, and yet see different things.
P.S. Bringing in some Mains Orientation on The Forum, moving away from the "buy & sell" culture that is evolving. I hope other members contribute too.
P.S. 2 Himadree, If you are reading this too, it will be great if you could sum up any of your optional strategy . of GS Strategy in an article.
That will be answer writing practice too

P.S. Moderators may make this a temporary announcement if they deem right.