Bharat book shop, shop number 56/5, old Rajender Nagar, Delhi.
One of the early shop which is on your right hand a small long space and books kept on a table on the footpath. It has a men's saloon and some small chemist store adjacent to it.
Attaching: photo of the shop and a rough bill.
I want other aspirants to be cautious while dealing with crooks like him. I will narrate how he tricked me out of Rs. 1670/-
I currently live in Pune and preparing for CSE. I wanted some notes and mocks. So I asked my friend to buy them and send them to me by courier. My friend went to this shop on
29th May
and purchased materials for Rs.1250. I told her to courier them herself but she on the shopwner's insistence that we do it regularly and keep faith in us, asked him to courier them to me. So she paid him
Rs. 1670/- (material of 1250 + Courier charges)
. This happened on 29th may.
Now after a week I started calling him but he wasn't answering. After sending some friends to enquire there to whom he always answered "Kal pakka milega", he on June 12th (14 days later) called me from another number and told me that
my courier was mistakenly sent to Chennai
and now he has it and sending it to me now and will reach tomorrow.
On June 18th I sent another friend and made him talk to me. He then gave me a
docket no: 8044245160 of overnite courier
which shows it was
dispatched to Pune on 18th June from Delhi
(20 days later).
Now, I got irritated and posted this on review on Justdial and facebook-Vajiram group. He suddenly called me and told me to remove these posts and review on Justdial. He tells me it will be delivered tomorrow (nth time) i.e. on Sunday evening when courier co are closed and webtracking of the courier still shows it is just dispatched from Delhi.
He tells me he doesn't need my money and has very good reputation around; so when I asked him to return me my money, he resfused.
Attaching the parcel status on 23rd June:
Today at 8.30 in the morning I woke up to a
call by some lawyer from Patiyala House Court
saying
I should remove the posts or they will issue a defamation notice against me.
I SAY BRING IT ON! Now my resolves are hard like stone, I will teach him a lesson he won't ever forget.
But guys take a lesson from and beware of these fraudsters.

[Moderator note: The attachment showed a different shop than whose reference is mad here. we are removing the picture]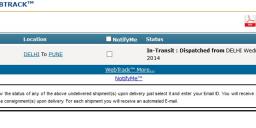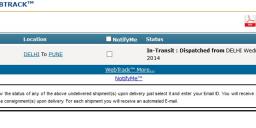 UPSC civil services examination is coming closer, and my struggle continues. It shall not end until my death. I shall take no wife, hold no lands, father no children. I shall wear no crowns and win no glory. I shall live and die at study table. I am the sword in the darkness. I am the watcher on the walls. I am the shield that guards the realms of men. I pledge my life and honor to the Civil Services, for this day and all the days to come.........