hello all,
i had worked very hard for mains last year , gave it my best, and i will not say there was no lacuna in my preparation, but i have seen a few people around me getting under top 100, while i think i will not even make it to the reserve list.
i am sharing my marksheet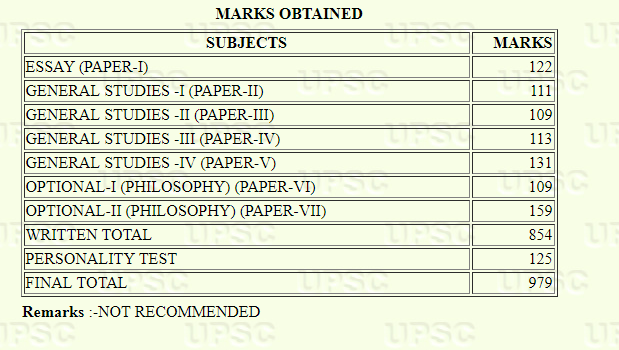 I need help with two things
1) I am unable to score in Philosophy paper 1. I have zero idea about contemporary . can someone guide where to do contemporary from? i have both mitra and patanjali notes.. patanjali notes make some sense, but i am unable to fully understand it.
2) for essay what can be done? This time people have scored 150+. In comparison to that my marks are very low.
3) do i have any chance of making it to reserve list? i know that for reserve list you need only 1-2 marks less than the cut off , and final selection cut off is 988 while I am getting only 979. I am from General.
I had done everything i could for Mains. Solved all past year questions in philosophy ( paper 2) , paper 1 i had only done indian philosophy.
I need to improve in Essay .. last time i had written hardly one essay.
I dont know what went wrong in the interview board.. only 125 marks for what reason they awarded marks..
i dont think i have the energy to write the paper anymore with same enthusiasm that i had last year.