CSM 2016 - Please fill up Google Excel Sheet to find Home State, Service, Marks
UPDATE : Please fill up the below google sheet with your Marks or your friends marks so that we can have a prediction of service allocation, subject toppers, etc
https://docs.google.com/spreadsheets/d/1JMEBtlcpFop55PHs32jF7C0oPxywOn-zmmChCz7jKbQ/edit?usp=sharing
Congratulations to all those who have cleared CSM 2016. This thread should be utilized to discuss service allocation for CSM 2016 results, related queries and updates.
Citizen Charter for DoP&T mentions SLA for service allocation as follows:
I think this is the latest time before which they MUST release allocation list.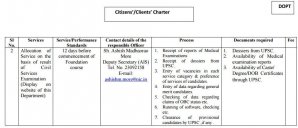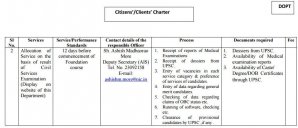 Indian Foreign Service | Career Diplomat
Courses by ForumIAS for CSE
ForumIAS is trusted by over 10,000+ students for their Prelims, Mains and Interview Preparation and we currently run several assistance programs to help students from Civil Services prelims preparation to rank upgradation to IAS. You can enroll for these programs by making the payment through the links below
---
1. Mains Guidance Program 2017 - July 1st :
Batch C ( 24 Seats | 21 GS + Essay Tests ) |
Test Plan
|
Payment Link
|
---
2. Mains Guidance Program 2017 - 7th August :
Batch D ( 50 Seats| 8 GS Tests ) |
Test Plan
|
Payment Link
---
3. Current Affairs Classes for Mains 2017 (OFFLINE) - 16th August
- ( 200 Issues for Mains 2017 ) |
Class Plan
|
Enrollment Link
---
4. Current Affairs (Online) Classes for Mains 2017 - 20th August
|
Details
|
Enrollment Link
---
5. Prelims Test Series 2018 - Coming Soon 6. Mains Guidance Program for Mains 2018 - Coming soon
UPCOMING EVENTS by ForumIAS
1. Open Session on DAF Filling :
What you fill in your Detailed Application form, will decide the marks you get in the Interview, the service that you will get and the state you will live in , for the rest of your life. Last but not the least, it will also decide who you will marry. Don't make mistakes. Join us for an open session on filling up the DAF. We will be assisted by ForumIAS Members who have secured a service or rank in this initiative.